Hard Water Humidifier Package
DS3200-M Furnace Humidifier + AutoFlush (AF15) + Anti-Scale Filter
Adding the DS AutoFlush AF15 and our exclusive anti-scale filter to your humidifier provides
the ultimate humidification system for hard water installations!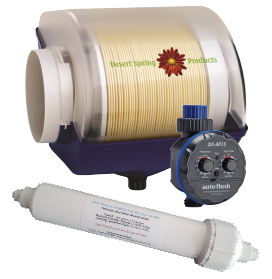 Our Desert Spring DS3200-M Hard Water Humidifier Package with AutoFlush (AF15) and Exclusive Anti-Scale Filter Features:
best hard water humidifier!
patented rotary disc technology
user-programmable AutoFlush system for optimal performance, flushing of minerals, and prevention of stagnant water
anti-scale water filter
virtually no maintenance
no sponge pads or screens to replace!
designed specifically for hard water installations
upgraded motor design and disc assembly in 2014!
maintains efficiency all season
reversible air inlet
eliminates potential for water stagnation
high humidity output - covers up to 3,200 sq ft!
free extended warranty to 2 years!
package includes humidistat and all required fittings for installation
The Desert Spring whole house furnace humidifier is the only humidifier that uses patented rotary disc technology to prevent mineral build-up and to inhibit bacteria and mold growth. The AutoFlush is a self-cleaning device designed specifically for the Desert Spring furnace humidifier. The Desert Spring Humidifier AutoFlush System removes minerals from the humidifier by flushing the reservoir at user defined intervals between once per hour and once per week. The Auto Flush valve remains open for a user defined duration between one minute and two hours, sweeping away unwanted mineral deposits and eliminating the possibility of stagnant water accumulation which could create an environment for mold or bacteria growth. The in-line anti-scale humidifier filter employs the scale inhibiting properties of polyphosphate to eliminate more than 95% of scale-forming inorganic minerals such as calcium. When added together these three products comprise the ultimate hard water humidification system.
Purchasing the AutoFlush and anti-scale filter with your Desert Spring humidifier as part of our "Ultimate Value Package" saves you money and provides the peace of mind of knowing that you have purchased the ultimate humidification system for hard water applications.
We are so confident that you will find the Desert Spring Furnace Humidifier to be the best furnace humidifier you have ever used that, if you are not completely satisfied with your purchase, you can return it within 30 days for a full refund!

All of our Desert Spring D3200 humidifier packages come complete with humidistat and all required fittings for installation.
Also available as part of our value packages:
Technical Specifications:
Evaporative Output:
max. 14.0* gallons per day
*ARI Standard 610-96
Application:
All Forced Warm-Air Furnaces & Heat Pumps
Unit Size:
12 inches wide x 11 inches high x
12 inches deep
Duct Opening:
7.8 inches wide x 6.0 inches high
Bypass Duct:
Diameter: 6 inches
Collar & Duct Supplied
Reversible air inlet (left or right side)
Coverage:
up to 3,200 sq feet (well insulated home)
2,800 sq ft for average insulated home
Recommended Accessories