Desert Spring DS3200-M Whole House Furnace Humidifier
The Desert Spring DS3200-M furnace humidifier is simply the best whole house central humidifier on the market today!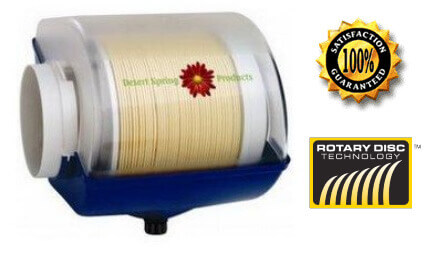 The DS3200-M Furnace Humidifer Features:
patented rotary disc technology
handles up to 3,200 sq ft!
14 gallon per day evaporative capacity
no drain required
very low maintenance
no sponge pads or screens to replace!
no wasted water
upgraded motor design and disc assembly in 2014!
maintains efficiency all season
reversible air inlet
package includes humidistat and all required fittings for installation
The Desert Spring whole house furnace humidifier uses patented rotary disc technology to prevent mineral build-up and to inhibit bacteria and mold growth. This rotary disc technology means no foam pads or drums to replace, and therefore, very little maintenance. The lack of mineral scale allows the Desert Spring furnace humidifier to operate at peak efficiency for the entire humidification season.
The Desert Spring furnace humidifier is also extremely water efficient, with 100% of the water entering the humidifier being put into your home's air. This efficiency means you don't need a drain in order to install it. It has a 14 gallon per day capacity and can humidify a home up to 3,200 sq ft. If your home is larger than 3,200 sq ft you may need to install two units. Please call our customer service representatives toll free at 1-866-376-2690 to discuss this option.
Made from quality components manufactured in Canada and the USA, Desert Spring ensures the best craftsmanship and a long service life. The current version of the DS3200-M which was released in 2014, includes an upgraded motor and drive design, and a new disc assembly that can be taken apart to facilitate cleaning.
We are so confident that you will find the Desert Spring Furnace Humidifier to be the best furnace humidifier you have ever used that, if you are not completely satisfied with your purchase, you can return it within 30 days for a full refund!

The Desert Spring D3200 furnace humidifier comes complete with a humidistat and all required fittings for installation.


Also available in an Extra Value Package with popular accessories:
Technical Specifications:
Evaporative Output:
max. 14.0* gallons per day
*ARI Standard 610-96
Application:
All Forced Warm-Air Furnaces & Heat Pumps
Unit Size:
12 inches wide x 11 inches high x
12 inches deep
Duct Opening:
7.8 inches wide x 6.0 inches high
Bypass Duct:
Diameter: 6 inches
Collar & Duct Supplied
Reversible air inlet (left or right side)
Coverage:
up to 3,200 sq feet (well insulated home)
2,800 sq ft for average insulated home
Recommended Accessories